Description
WILSON X31 LADIES COMPLETE GOLF SET + DELUXE GOLF CART BAG / NEW 2022 MODEL
RRP £399.99 Our Price £329.99 Delivered
FREE UMBRELLA, 1 DOZEN WILSON BALLS & SOCIETY TEE PACK WORTH £39.99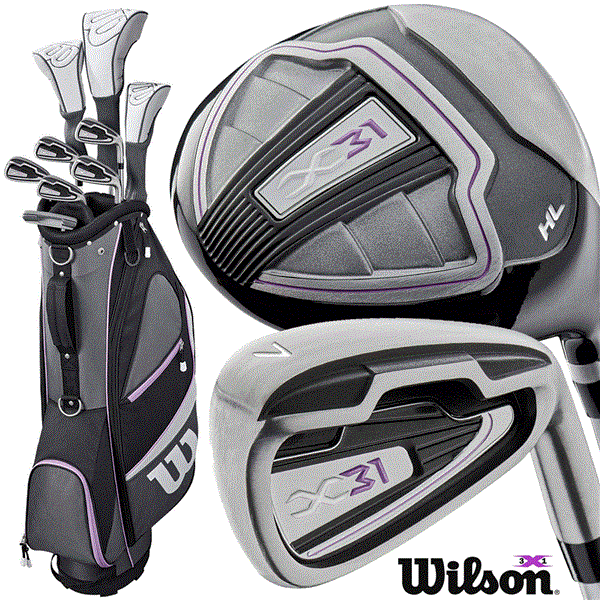 NEW FOR 2022 The Wilson X31 Ladies golf package set has had a makeover,
Featuring the latest game improvement technology offering a forgiving and
powerful design. The X31 Golf Set is ideal for both beginners and improvers
alike and Includes everything that you will need to get you out on the fairways
The Wilson X31 Ladies golf set has been designed to offer increased
distance, control and forgiveness, allowing you to improve your game.
Specifically designed for the lady golfer with lightweight graphite shafts.
FEATURES
Oversize 460cc Driver / 14 Degree Loft / Ladies Graphite Shaft
Oversize 460cc Titanium Composite Driver With Tip Reinforced Graphite Shaft.
Forged Titanium Composite Driver Creates Higher MOI (Movement of Inertia)
Technology giving you a straighter ball flight from centre hits.
Fairway 5 Wood / 18 Degrees Loft / Ladies Graphite Shaft
Fairway Wood #3 with Tip Reinforced Graphite Shaft.
Low centre of gravity helps launch the ball for greater accuracy.
Hybrid Club #6 / 26 Degrees Loft / Ladies Graphite Shaft
Easy to hit hybrid #5 with tip reinforced graphite shaft. Improves fairway play;
Visibly larger head shape and sweet spot help you gain confidence and distance.
Irons 7-SW / Ladies Graphite Shafts
Set Includes Six perimeter-weighted stainless steel irons #7,8,9, PW, SW.
Extremely deep cavity moves weight low and back for improved accuracy.
Easy Align Putter
Popular heel toe shaped features anti-glare finish to aid in better accuracy.
Putter face features soft polymer insert for improved feel and accuracy.
Deluxe Golf Cart Trolley Bag
Lightweight: Lightweight design allows for easy transportation
Large Pockets: Large storage pockets are spacious and easily accessible
Superior Protection: Padded Mesh top protects graphite shafts
Rain Cover: Includes detachable rain hood to protect in rain
3 x Headcovers 
3 x graphite friendly head covers to fit and protect the heads
and shafts on the Driver Fairway wood & Hybrid.
SET INCLUDES
1 x DRIVER (Ladies Graphite shaft)
1 x 5 Wood (Ladies Graphite shaft)
1 x 6 Hybrid (Ladies Graphite shaft)
7,8,9,PW & SW Irons (Ladies Graphite shaft)
1 x easy Align Putter, 3 x Wilson Head Covers
1 x Deluxe Golf Cart Trolley Bag
FREE GIFTS WORTH £39.99