Description
Wilson Staff D7 Mens Complete 11 Peice Golf Set New 2020
 Price £939.99
The Ultimate Wilson Golf Set
Whats in The Bag:
1 x Wilson Staff D7 9*,10*Or 13*Degree 1 Wood Driver ( Please Choose From The Drop Down Menu)
1 x Wilson Staff D7 3 15* Degree Fairway Wood
1 x Wilson Staff D7 5 Hybrid 25* Degree
7 x Wilson Staff D7 Irons 5 to SW, Fitted With KBS Tour 80 steel shafts
1 x Wilson Staff Infinite Putter Windy City Or South Side Infinite Putter ( Please Choose From The Drop Down Menu)
1 x Wilson Staff Exo D7 Cart Bag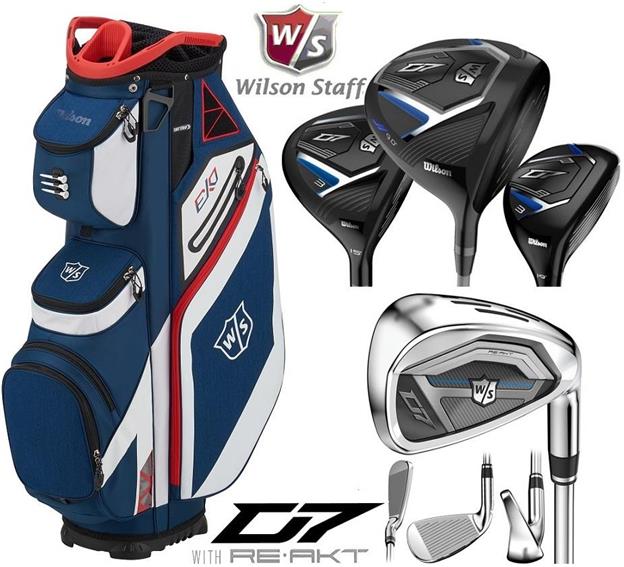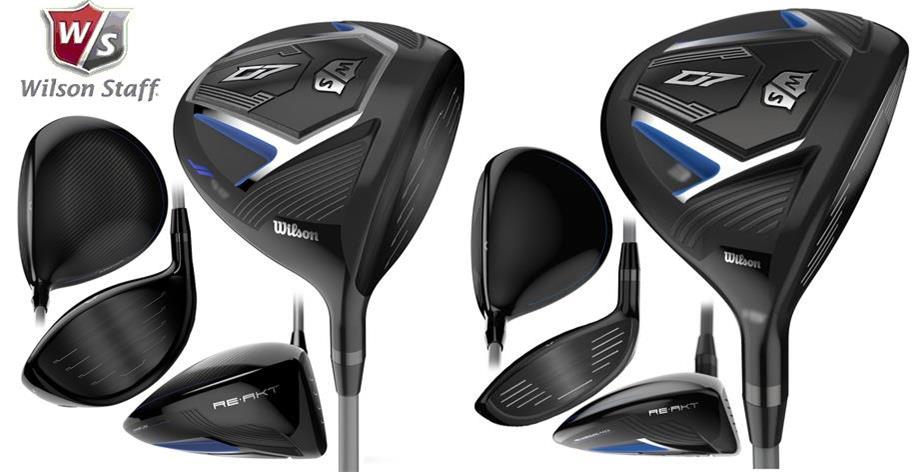 The D7 features a brand new composite crown constructed from a three-piece Kevlar layered between woven and directional carbon fiber. This neutralizes club head vibration for a sharp, crisp sound with incredible feel off the club face. With a super light design, the advanced materials and simplified construction result in a head weight of just 192g. This allows for greater ball speeds and maximum distance even on miss-hits.
New dynamic launch control has internal weighting that has been optimized depending on the loft of the driver. The 9* features a weight forward, 10.5* a mid sole weight and the 13* with a weight towards the back and heel of the club. The result is improved performance for different types of players depending upon their loft requirement.

Shafts Are Fitted With Premium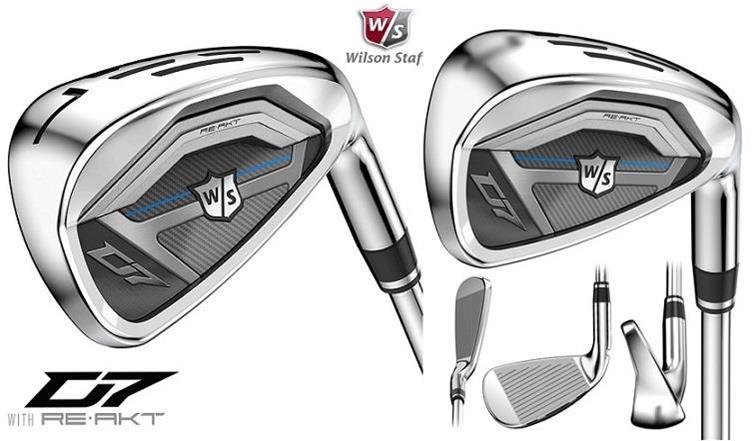 This Wilson D7 7 Piece Steel Iron Set comes with a 5 iron through to sand wedge so you can dominate on the fairway, whilst the progressive power holes with optimised weighting delivers maximum feel and precision. The ultra thin face is ultra responsive and adds greater distance, whilst the RE-AKT technology puts power where you need it most and the Wilson Staff branded Lamkin grip helps enhance control during your swing.
> Wilson D7 Irons
> 5 Iron – Sand wedge
> Progressive power holes
> Ultra Thin Face
>Shafts Are Fitted With Premium stock KBS Tour 80 steel shafts
Progressive Power Holes
Wilson Staff has engineered the irons with progressive power holes, the longer
irons feature 3 rows of power holes for greater distance and the shorter irons
have fewer power holes to give you more feel and precision closer to the green.
Ultra-Thin Face
To give the golfer more power and at their disposal, the D7 irons have an ultra-thin
face, this is the thinnest face Wilson has ever created to provide more responsiveness
better feel, and longer golf shots.
Performance Player
The irons are going to aesthetically please, with straight clean shaping and
top line and the combination of a players style iron, with all the benefits of
game improvement technology.
Infinite Windy City Putter Or Infinite South Side ( Please Choose From The Drop Down Menu)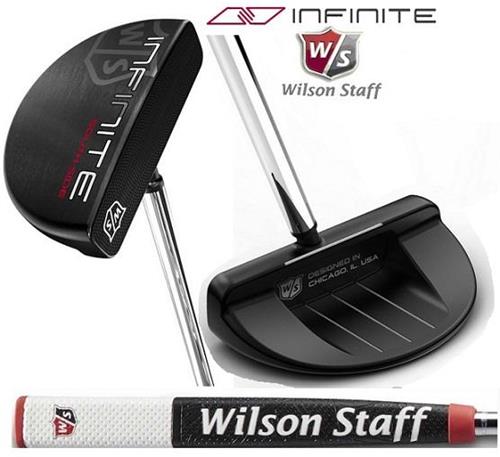 Infinite Windy City Putter                                                                                   Infinite South Side Putter

COUNTER-BALANCED TECHNOLOGY
Oversized, 104-gram grip moves the balance point closer to the hands for a smoother, more controlled putting stroke
The Infinite putter has an oversized profile to provide a more stable feel, and has an oversized grip, which is heavier to create a more counter-balanced feel. For more consistency the putters have a double milled face to create better control, and have a dark PVD finish to reduce harsh glare. Other features include a perforated grip to enhance feel, and comes complete with a matching putter cover.
The Wilson Staff Putter Features:
Oversized Head Construction
Double Milled Face
Heavier Grip (to promote a counter-balanced feel)
The Infinite putter comes complete with a matching head cover.
Wilson Staff EXO Golf Cart Bag
Wilson EXO D7 Cart Bag another great bag from Wilson, the all new  Wilson Staff EXO Cart Bag New For 2020
Description
The EXO Cart is loaded with features such as 14 divided club sections, a trolley anchor base, Dry Tech valuables pockets, large garmnet pockets, accessories pockets, a cooler pocket, ball pocket amd space for your towel, gloves, umbrella and tees. 1 Year Manufacturer Warranty
Features
Innovative, full-featured premium cart bag
New 11″×9″ top opening
14-Way top
14 Full-length dividers
2 Integrated molded handles
Enlarged putter section fits oversized grip
New base with trolley anchor
2 Dry Tech valuables pockets
2 Full-size garment pockets
3 Front accessories pockets hold balls or rangefinder
1 Large cooler pocket
Pass-through strap loop under top pocket
Front umbrella holder
Tee holders
Towel ring
Glove holder
Rain hood
3D foam padded strap
5.2 lbs / 2.3 kgs
Please note, if you would like to change the specification of any clubs in this set. Just call the office or send through an email.