Description
WILSON PROSTAFF SGi LADIES COMPLETE 10 PIECE GOLF SET & 2020 PROSTAFF GOLF STAND BAG
This ladies SGI Golf Set is the Deluxe 10 Piece Model, the difference from the standard set is and addition of a 6 Iron We have put the ladies Harmanized M1 Putter in the set. We have changed the 5 Wood for the 3 Wood and you will receive the Wilson Prostaff Stand Bag as apposed to the box set version
Our Price Only £369.99 Delivered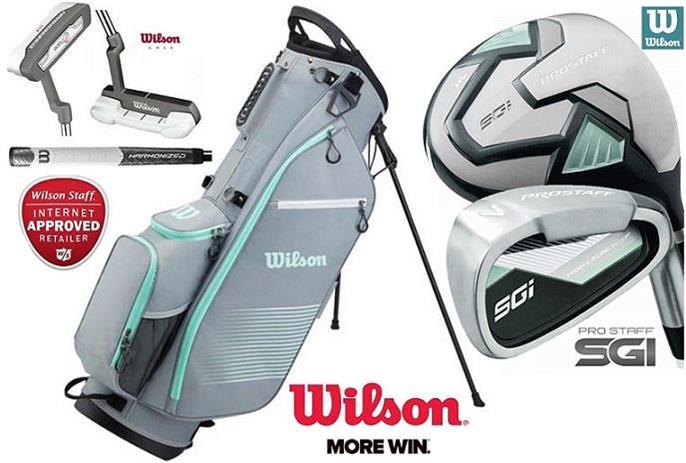 NEW FOR 2020 The Wilson Prostaff SGI Golf Package Set combines the latest game improvement technology with Wilson's proven dedication to quality.Including everything that you will need to get you from tee to green.the Wilson Prostaff SGI is a premium complete golf package set which issuitable for both beginners and improvers in the game of golf.
The Wilson Prostaff SGI golf set has been designed to offer increased distance, control and forgiveness, allowing you to improve your game.Whats in the bag
1 x DRIVER (Ladies Graphite shaft)
1 x 3 Wood (Ladies Graphite shaft)
1 x 6 Hybrid (Ladies Graphite shaft)
6,7,8,9,PW & SW Irons (Ladies Graphite shaft)
1 x Harmanized easy Align Heel Toe Putter soft face insert, 3 x Wilson Deluxe Head Covers
1 x Prostaff Deluxe Golf Stand Bag New For 2020
Oversize 460cc Driverlleys) / 13 Degree Loft / Ladies Graphite Shaft
Oversize 460cc Titanium Composite Driver With Tip Reinforced Graphite Shaft.
Forged Titanium Composite Driver Creates Higher MOI (Movement of Inertia)
Technology giving you a straighter ball flight from centre hits.
Fairway 3 Wood / 18 Degrees Loft / Ladies Graphite shaft
Fairway Wood #3 with Tip Reinforced Graphite Shaft.
Low centre of gravity helps launch the ball for greater accuracy.
Hybrid Club #6 / 25 Degrees Loft / Ladies Graphite Shaft
Easy to hit hybrid #5 with tip reinforced graphite shaft. Improves fairway play;
Visibly larger head shape and sweet spot help you gain confidence and distance.
Irons 6-SW / Ladies Graphite Shafts
Set Includes Six perimeter-weighted stainless steel irons #7, 8, 9, PW, SW.
Extremely deep cavity moves weight low and back for improved accuracy.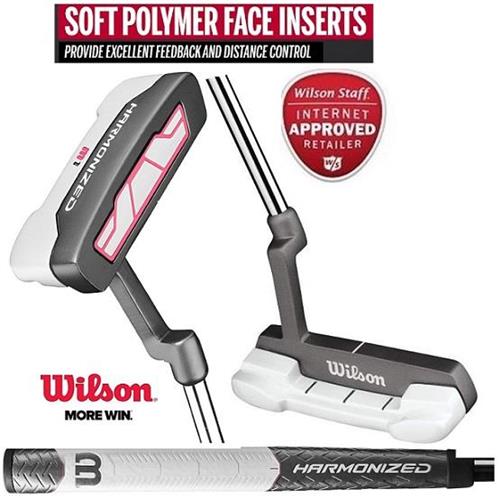 Wilson Ladies Harmonized M1 Golf Putter
Easy Alignment, Tactile Grip
Easy alignment and game improvement technology makes these Wilson Harmonized putters a great putter for mid-high handicap golfers with fantastic value.
The eye-catching vertical seam grip is designed with a slightly larger diameter for improved feel.
Wilson Ladies Prostaff Golf Stand Bag NEW For 2020
Functional Design At Great All Round Value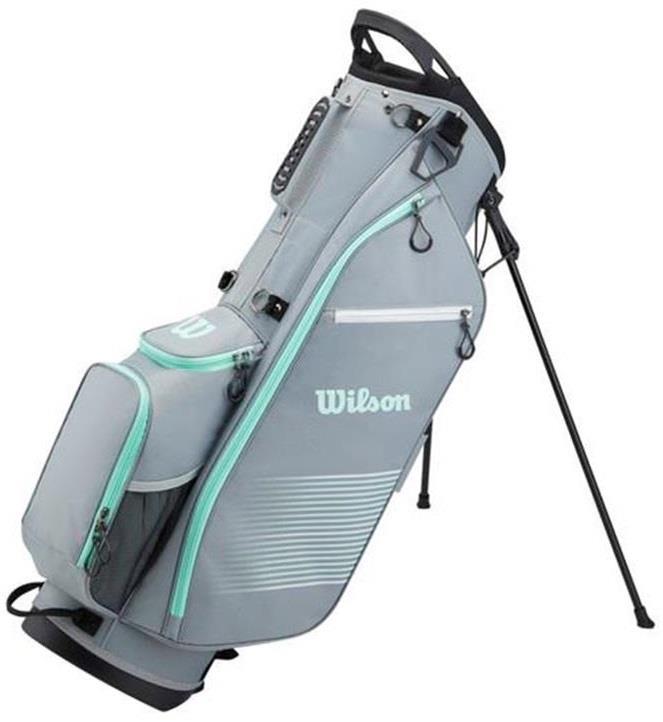 Wilson Prostaff Golf Stand Bag
Functional Design At Great All Round Value
The new Wilson Prostaff stand bag has a popular, modern design for the carry bag player who requires great features with a lightweight construction.
The Prostaff has an array of features that you would find on premium stand bags. Weighing just 1.9kg, this bag caters to the ultimate walker demanding a comfortable feel and a quick activating stand and stay flat base.
With great features such as 7 pockets for accessibility of belongings: one full-length garment, one valuables, one insulated drinks pocket and four accessory/ball pockets.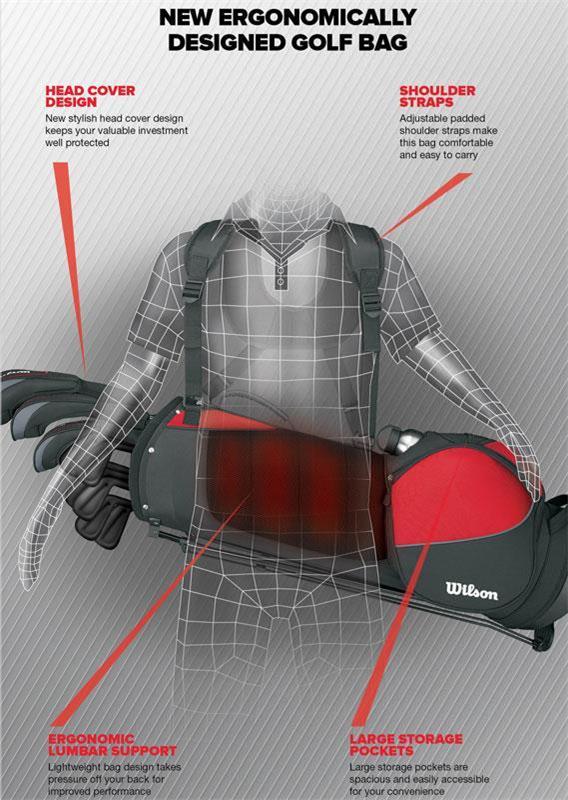 Features:
    10″" × 7.5″"
    4 Dividers
    Soft mesh shaft protection
    Double-padded strap
    Water bottle sleeve
    Large hip / lower back pad
    Umbrella holder
    Boot handle
    Towel ring / glove holder
    Rain hood
    3 Stays construction
    Light construction
    Lightweight kick stand
    Diamond polyester fabric