Description
"NEW 2019" WELLING PUTT 3 METRE STANDARD SPEED GOLF PUTTING MAT / PRACTICE AID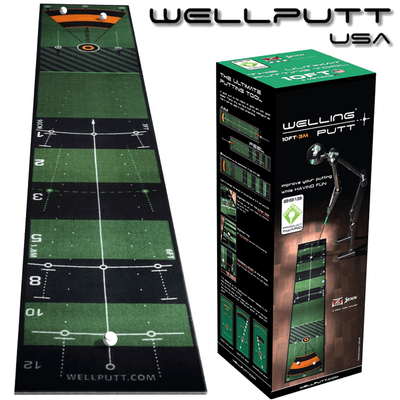 Great Fun as well as Improved 

Feel, alignment and consistency
The Welling Putting mat will teach you aim at the hole but make sure the ball goes past the hole whatever gradient you are on.
It is the combination aim and feel that will improve the number of strokes you have out on the course and this is exactly what the Welling Putting Mat will do.
Defined mapping of space
In creating a defined mapping of space between the golfer and the hole (the lines on the mat) associated with a repetition of studied and determined movements (the exercises),
Welling putt offers the golfer a routine of exercises allowing him to sub-consciously acquire a key movement accompanied by perfectly adapted speed and strike control.
Practical visualization
For the first time a training mat presents a practical visualization of the distances represented by the different zones on the mat.
In its association with structured and supervised exercises, the brain memorizes movement, strength and speed of stroke, in conjunction with each designated zone of space.
The proposed exercises thus offer a perfect learning technique which the golfer will sub-consciously use when in a real game of golf, these data being neurologically assimilated.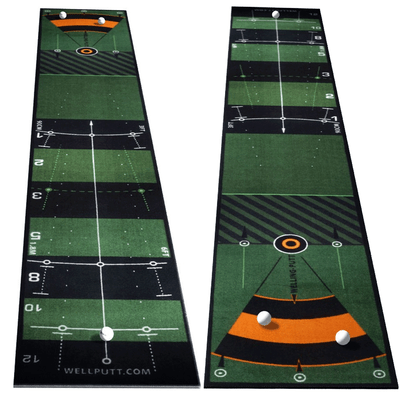 Practice & compete
The Welling Putting Mat comes with a training book of over 50 exercise specifically  designed to improve your putting, training sessions based around touch, alignment, routine and ball contact.
INCLUDES
3 METRE PUTTING MATT
3 X GOLF SCORECARDS
INSTRUCTION BOOKLET