Description
MASTERS CADDY PRO TGW GOLF TRAVEL COVER
WHEELED GOLF FLIGHT BAG / RRP £129.99
OUR PRICE ONLY £69.99
The Masters Caddy Pro TGW is a premium high quality golf travel cover constructed
from a Lightweight yet heavy duty nylon material, the Caddy Pro is heavily padded
to offer complete protection of your valuable golfing kit.
Easy roll wheels will effortlessly glide over all types of surfaces whilst the skidpan
hard case plate on the back of the travel cover provides excellent durability.
Easy access into the large compartment makes loading and unloading exceptionally
easy, and for peace of mind you are able to padlock the zips together.In addition internal storage pockets offer easy storage of golf shoes and clothing.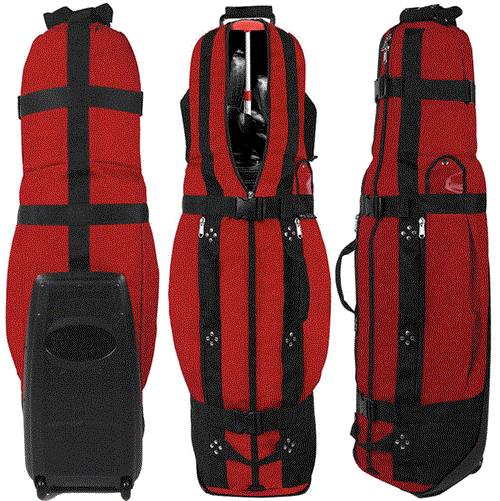 MASTERS CADDY PRO TRAVEL COVER COLOUR RED
FEATURES
Heavily padded throughout for extreme protection
Solid Base plate to protect area liable to damage during transit
Single webbing reinforcement for extended durability
Reinforced stitching in key areas for extra protection
High-impact plastic wheelbase with integrated in-line skate wheels
Single piece burst proof construction
Internal heavy duty anti-burst straps
2 exterior shoe/storage pockets
Pull top handle and centre carry handle
Over the top zipper for easy loading
Large Dimensions – (Approx) 130cm x 38cm x 36cm
Very lightweight at just 2.4KG
*Please note that the Rod Arm shown in pics is
for illustrative purposes only and not included*