Description
Ben Sayers M15 All Graphite Complete Golf Club Set Cart Bag
Only £209.99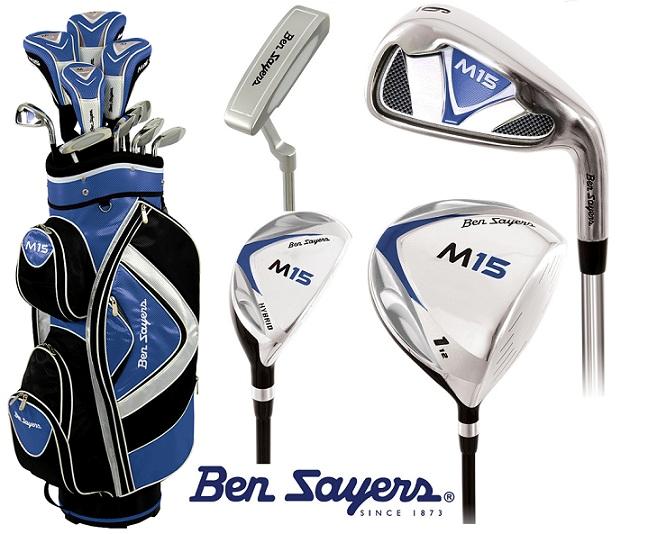 Ben Sayers have really raised the bar again for 2016, with the all new Ben Sayers M15 Golf Package Set.
Whats in the bag:
1 x 460cc oversized Driver (Graphite Shaft)
1 x oversized titanium matrix 3 Wood (Graphite shaft)
1 x oversized titanium matrix  5 Wood (Graphite Shaft)
1 x easy to hit Hybrid (Graphite Shaft)
Cavity back irons 5 – SW ( Graphite Shaft)
1 x soft polymer insert Putter
1 x Golf Bag ( Cart)
Headcovers included on all woods and hybrids
Driver / Fairways – 460cc oversized Titanium matrix driver and matching woods with graphite shafts that have been designed to be aerodynamic to reduce drag and help you create a more repeatable swing. The heads of these clubs also feature a tactical flight channel and lower centre of gravity to increase the stability of the head to increase forgiveness and accuracy on miss hit shots.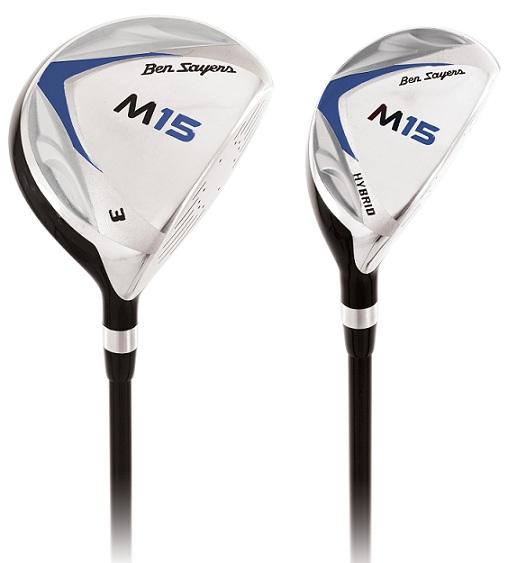 The stylish  hybrid replaces the longer, harder to hit traditional irons incorporating an offset hosel to eliminate sliced ball flight. By lowering the CG we have also achieved a higher penetrating ball flight, resulting in increased distance and accuracy.
Irons – The stainless steel head on the Ben Sayers irons provides durability and the iron head features a deep undercut cavity to provide you with the game improvement forgiveness that beginners need throughout the whole set. A wider sole and top line will inspire confidence at address and increase and the technology will help you lower your scores quickly.
The shafts on this set of irons are all graphite so will be better suited for golfers with slow to medium club head speed. If your swing speed is fast you should go with the steel iron version of this set.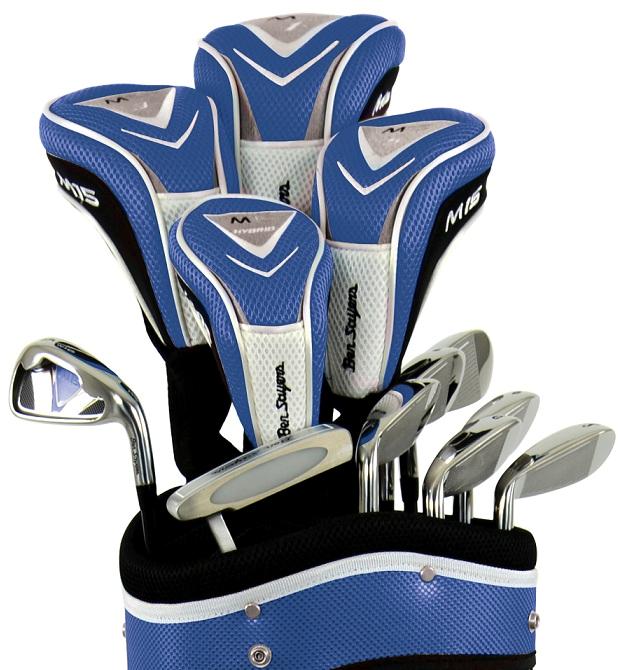 Each set comes with matching deluxe head covers made from quality materials.
All sets come with a top of the range deluxe cart bag offering all the features you would expect from a Ben Sayers bag.